You're Invited to an April Get Together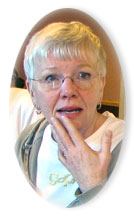 Tuesday, April 23rd, 2013, Houlihan's, 11600 W. 95th, Overland Park, KS (Across from Oak Park Mall) at 11:30 a.m.
Lawrence group meet in Set'em Up Jacks' parking lot at 10:30a.m. to car pool.
Hopefully we won't get snowed out!!!
— Sherri
March Madness
Karen Stuart Heeb has sent some photos from the KU/NC game, Sunday, March 24, in Kansas City. Of course, KU won! Thanks Karen. (Click on a photo to see a larger version.)
Photos from our 50th Reunion
Several classmates who attended the 50th Reunion are sharing their photos. It will take several days to get all the photos up on the Web site. I've decided to go ahead and post the photos without the captions (which I will add later).
Thanks to the following for sending their photos: Fred and Elodia Adamson, Janet Burnett Huchingson, Marilyn Chamney Lee, Alan and Janet Hardtarfer, John and Rosemary Hamilton Hines, Ida Johnson Jeppersen, Barbara Ludvicek Penning, Nancy Miller Reiling, Katy Wright Young and Kathy Harley (Mary Helen Dorsey Bashlor's sister).
If you have photos from the reunion that you would like to share on the Web site please send to Ruth Bramble Humphrey at ruth@humphreyfam.com.


Official 50th Reunion Photos
The official reunion photos are available. Large-format photos to copy are available along with a key to identify who's who in the photos. HERE for the key to who's who and a link to larger photos.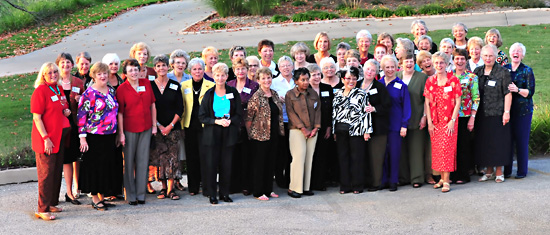 Eighty-four classmates are shown in the above photos — too many for one photo!
Reunion Items made to order

Kay (Melva) Franz Hodge designed and constructed many items for the class of 1959 including photo albums, photo frames and caps. The items were such a success that she thought other classes might like items made for their reunions. She sends the following message:
Are you looking for a way to make your next reunion more memorable? Contact Kay Hodge for those special items with your graduation and reunion dates on them. You can select from many, many items for your graduates to pick from. Give me a call or send an email and see about making your next reunion special. — Kay Hodge , 851 E. 300 Rd., Overbrook, KS 66524, 785-748-0939, kyblhodge@yahoo.com.