Live streaming on Facebook of Oct. 18 get together
at the Merc will begin at 10 a.m.
If you can't be in Lawrence for our Oct. 18 get together (for more information about the get together, see LHS Gals... below), you still can be part of the fun through "Live Streaming" on our Facebook page. You must be a member of Facebook to join our page named "Lawrence High School KS Class of 1959"
To join Lawrence High School KS Class of 1959: 
From your Facebook page search for the "Lawrence High School KS Class of 1956" page, open it and click on "Join". " Join" requests go to the Administrator who OKs the request. Members will be able to view messages posted to the page and will receive notifications when new posts--including Live Streaming--are posted. (Comments and emoticons can be added during Live Streaming.)
LHS Gals...
Before the holidays and winter interrupt the planning picture … put the following on your calendars and plan on coming!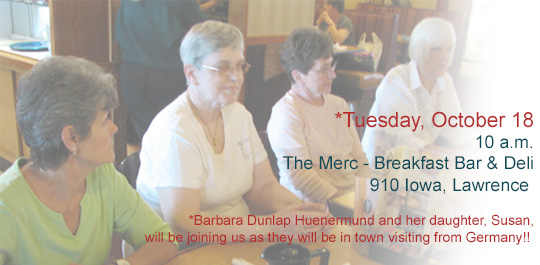 Janet explores Lawrence
Check out an article from the Lawrence Journal-World about Janet Burnett-Hutchingson.
Janet is working on a goal of walking along every street in the Lawrence city limits....Janet walks during the daytime hours when most of us are working, at school or taking care of other business. HERE for the article.

Photos from April 11, 2015 Get Together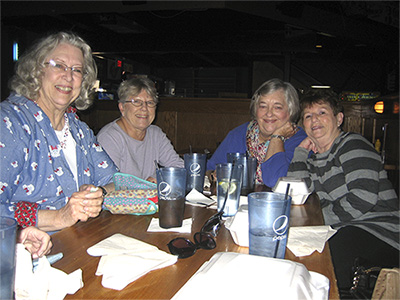 Nola Morgan Riggs, Debbie Grinstead Beene, Nancy Miller Reiling and Judy Demos Crossfield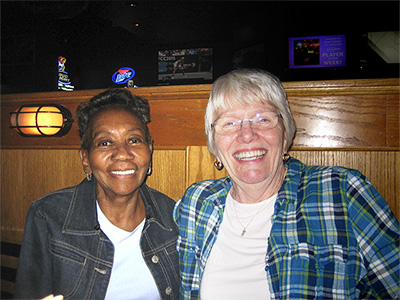 Joann Waters Mitchell and Sherri Dobbins Millsap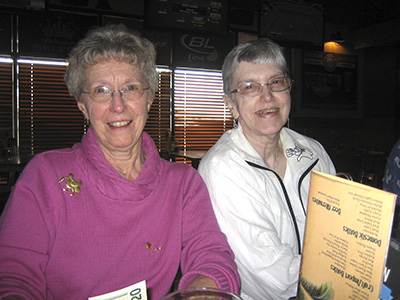 Janet Burnett Hutchingson and Kay Franz Hodge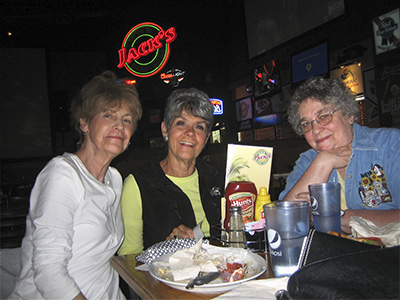 Mary Hammig, Karen Stuart Heeb and Mary Kirby
Saturday night photos

Sept. 26, 2014 — (Just click on a photo to see an enlargement.) Photos taken by Nancy Miller Reiling
Photos from Saturday night
Sept. 23, 2014 — (Just click on a photo to see an enlargement.)
A "special thank you" to Janet & Larry Schaake for hosting us at their place again! Below are photos from the Saturday night celebration of our graduation. Good food, good conversation and, oh yes, Levis—correction "Elvis"— did appear in gold lamé!
Photos from Friday night's bash
Sept. 13, 2014 — (Just click on a photo to see an enlargement.)
Possible gold-lamé sighting...
Sept. 13, 2014 — While we generally dislike encouraging rumors, we probably would be remiss if we failed to inform classmates of a whisper going round Johnny's Tavern last night at the LHS Class of '59ers Low Dive and Reprobate's crawl — namely , a possible second coming of Levis during the '59er's Punkin Patcher Pucker Fest out at Larry and Janet Schaake's place tonight. We can't really believe it either but we're not about to miss it just in case. See you there Saturday night!


The time has come again for another get together ... the 55th celebration of our graduation from LHS! The weekend of Sept. 12 and 13 works for Lawrence this year as there is no KU football game that weekend which frees up motels. Watch for more news and how to register for the activities.
Schedule of events

Friday, Sept. 12

6 p.m.

Johnny's in North Lawrence for pizza, beer, soft drinks and conversation

Saturday, Sept. 13

TBA

Larry and Janet Schaake's, 1791 N. 1500 Rd., for catered meal and more conversation
In Remembrance: Recent Deaths
Larry Dolifka 1941-2014

Classmate Larry Dolifka passed away April 18, 2014, at Midland Hospice House, Topeka. Larry worked for the Union Pacific Railroad in Lawrence and for 49 years worked at Laird Noller Ford in Topeka.
HERE for his obituary.

Phillip S. Comstock 1941-2013

We've just received word from Phillip Comstock's son that Phil passed away
Dec. 1, 2013.
Ingrid Vosper McCarroll joins July gathering
Members of the Class of '59 met July 14, 2013, at TEN (Eldridge Hotel) in Lawrence for their July gathering. Special guest was Ingrid Vosper McCarroll. The KU library hosted a celebration for what would have been her father's 100th birthday on July 12.
Back row from left: Mary Kirby LaRue, Nancy Vogel (Class of '58), Mary Hammig, Ingrid Vosper McCarroll, Judy Demos Crossfield, Sherri Dobbins Milsap and Nancy Miller Reiling. Front row: Joanne Waters Mitchell, Genia Wilson and Linda Garrett Wright.
Special guest for June 2013 gathering
Nancy Stone Adair attended our June 17, 2013, gathering at Salty Iguana in Lawrence.
Above from left: Mary Kirby LaRue, Nancy Vogel, Nancy Miller Reiling, Kay Franz Hodge, Judy Demos Crossfield, Sherri Dobbins Milsap, Janet Burnett Hutchingson, Nancy Stone Adair, Sue Squires Midyett and Karen Stuart Heeb.

Sherri Dobbins Milsap, Janet Burnett Hutchingson and Nancy Stone Adair

Sue Squired Midyett and Karen Stuart Heeb

Karen Stuart Heeb, Sue Squires Midyett, Mary Kirby LaRue and Nancy Vogel
Photos from our 50th Reunion
Several classmates who attended the 50th Reunion are sharing their photos. It will take several days to get all the photos up on the Web site. I've decided to go ahead and post the photos without the captions (which I will add later).
Thanks to the following for sending their photos: Fred and Elodia Adamson, Janet Burnett Huchingson, Marilyn Chamney Lee, Alan and Janet Hardtarfer, John and Rosemary Hamilton Hines, Ida Johnson Jeppersen, Barbara Ludvicek Penning, Nancy Miller Reiling, Katy Wright Young and Kathy Harley (Mary Helen Dorsey Bashlor's sister).
If you have photos from the reunion that you would like to share on the Web site please send to Ruth Bramble Humphrey at ruth@humphreyfam.com.


Official 50th Reunion Photos
The official reunion photos are available. Large-format photos to copy are available along with a key to identify who's who in the photos. HERE for the key to who's who and a link to larger photos.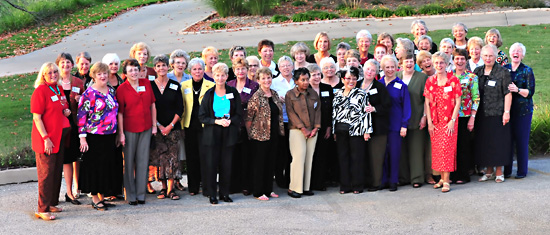 Eighty-four classmates are shown in the above photos — too many for one photo!